History of the Thorntown Library
In the fall of 1911, the only library in Thorntown was that one which belonged to the Public Schools.
There were about 425 volumes housed in the office of the school superintendent F. B. Long, where the early records show they "were all in a poor condition and very badly kept." During that school year and the following one—by money derived from entertainments and a tax of six tenths mill—the number of books was doubled.
In 1908 Anson Mills had been asked to provide a library to Thorntown, and he later wrote in his autobiography about that request:
"An epidemic of typhoid fever was raging, caused by poor drainage and a layer of impervious clay about twenty feet below the surface, which caused contamination of the wells. A prominent minister requested me to donate a library to my native town. Thinking more good could be done by building a pure water system, I said that if the town would maintain a fountain monument to the memory of my father and mother, I would build a water and sewer system."
Supt. Long then asked steel tycoon and philanthropist Andrew Carnegie to give the community a library and received an offer of $6000. However, if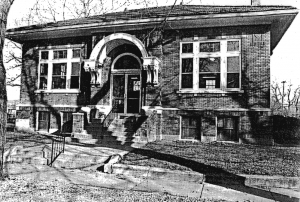 the Town and Sugar Creek Township would agree to provide $1000 in annual operating expenses for a Free Public Library and a suitable site for the building, the Carnegie Corporation would give $10,000. In May 1914 an agreement was made for construction of the 3400-square-foot library that still graces the north part of the present building. Because Carnegie had felt he was duplicating expenses by allowing every community to design its own building, he and his assistants selected three blueprints and subsequently communities had to select one of the three. Hence, many early libraries looked similar.
From 1999-2001 the library board had acquired three neighboring properties. In 2002 the library staff, architects and community members designed the present library of 14,000 square-feet. The library planning committee of 41 people included ages 6 to 76. Members visited and photographed other libraries, then brought the information back to Thorntown for discussion in public meetings. Multiple meetings were held with architects and their proposals for service were evaluated by the committee, resulting in a recommendation that the firm of Veazey, Parrott, Durkin & Shoulders (Evansville and Indianapolis) be hired in July 2002 by the library's board of trustees.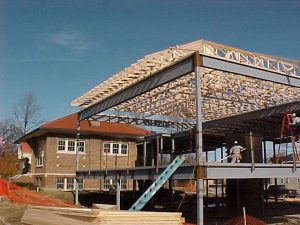 Multiple discussions were held and architects, engineers, and landscapers then worked for two days (September 9-10, 2002) in the Fellowship Hall of the Thorntown United Methodist Church. During this planning phase, as well as in previous meetings, consideration was given to keeping the neighboring Hainer House, also known as the Norris House, at 120 N. Market St., and connecting to it. During the first morning the exterior footprint of the library was considered and the team provided three possible uses of land. At noon of that first day the community was invited to comment and voted that connecting to the 1865 house would not provide the most efficient use of space. The team resumed work and invited the community back that evening to discuss revised exterior footprints as well interior spaces. After the staff drew balloon diagrams to display their thinking on how parts of the building and collections should relate to each other, the ideas began to flow and were fine-tuned so that by the end of the second day and four community meetings, the library as it stands today was designed. After more meetings, including two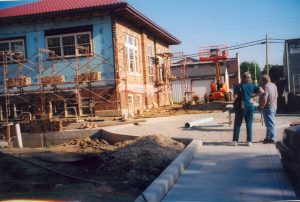 at Western Boone Jr.-Sr. High School, where architects met with students and teachers to learn what was preferred in library services and facilities, a Schematic Design Report was produced. In original thinking, a computer lab was to be included at the northeast corner of the building, but after hearing from students, it was agreed to move the computers into the Carnegie and design the northeast corner as a Young Adult room. (The students had asked for a place to make noise and to throwballs; we compromised to allow the noise.) Costs were considered, and although a three-million dollar project would have provided a building and all new furniture and equipment, it was agreed to limit the price tag to two million dollars. The library board had, in 88 years, saved half a million dollars and was working with financial planners and consultants to sell bonds to finance the additional 1.5 million dollars when Thorntown's Home National Bank offered to lend the money at a 4% interest rate. Since it had been anticipated that a 4 ½% rate was the best rate that would be available, the planning team was delighted with this gift. A lease-holding corporation was formed and the library will make its final payment on the 4000 square foot renovation and 10,000 square-foot addition by December 31, 2018.
There was substantial completion of the expanded library on November 1, 2004. A week of celebration activities was held that November because in January 1915 a week of celebration honored the original library's completion.

The Secret Garden Club of student readers had recommended a Secret Garden for outdoor activities be added to the north side of the building near the Children's Department, and many people had expressed a desire to add a reproduction of the historic Mills Memorial Fountain. Vectren Energy provided a grant to purchase meeting room tables and chairs; computer equipment was purchased using capital funds; fundraisers were held to add the fountain in 2007 and the garden in 2009. Used shelving and other equipment was acquired from area libraries and businesses; equipment that would have cost more than $70,000 was acquired for $2500 and friendly spaces were equipped that allow more than 800 programs a year, a collection of more than 40,000 books and many other media, as well as electronic services.